About Titan Manufacturing Incorporated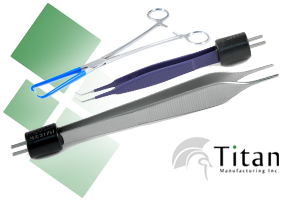 TMI was founded in 1995 as a small manufacturing company in the town of Phoenixville, PA. During the mid 90's TMI was primarily involved in high-precision contract engineering work for the Surgical Manufacturing Industry.
The company began the manufacture of surgical instruments for cataract operations. This new development within the company remained relatively small scale until 1998. The company engineers discovered the advantages of Titannit-Coating to the raw material, as used in the aerospace industry. It wasn't long before TMI saw the substantial advantages of this material and moved away from manufacturing surgical instruments in stainless steel. The new alloy coating proved to be very well suited to the requirements for surgical instrumentation, offering advantages such as no oxidation, relatively lightweight and yet extremely durable.
Since 1998 the company devoted more resources into the manufacture of surgical instruments, and became specialist for ophthalmic, neurosurgical and bi-polar forceps. Titan Manufacturing is an independent surgical instrument manufacturer, providing precision instruments for surgeons and well-known medical institutions throughout the world.
In order to deliver a quality service to all markets, Titan Manufacturing continues to expand and diversify as the need arises, whether it be in design, manufacturing, sales or marketing.
At the end of May 1999, Mentor Ophthalmic Products announced plans to discontinue the direct manufacture of the bipolar forceps line and liquidation of all existing inventory stock. Recognizing the importance of these forceps to the medical community, Mentor has selected Titan Manufacturing Inc. to best serve its existing customer base. Titan Manufacturing provides finely crafted hemostatic forceps, combined with complete and expert technical service, with care and efficiency.